Hard to believe Juggalos! But today marks the 20th anniversary of Twiztid's iconic LP "Freek Show"! Can you remember where you were specifically when you first heard the LP blow your mind like a shotgun to the back of your dome?! Or when your jaw dropped the floor upon your eyes first witnessing the front cover of "Freek Show" featuring Madrox and Monoxide faces sewn together? Which track do you still bump on the daily from "Freek Show" the most? Leave your favorite "Freek Show" memories below!
P.S. We here at Faygoluvers.net are super stoked by the fact Twiztid are featured as the main cover story for Underground Nation Magazine's upcoming issue all about celebrating "Freek Show"! Its an interview with Jamie Madrox that goes into the full back history of "Freek Show". We have some snippets below!
*Art By Mr. 8 Legz*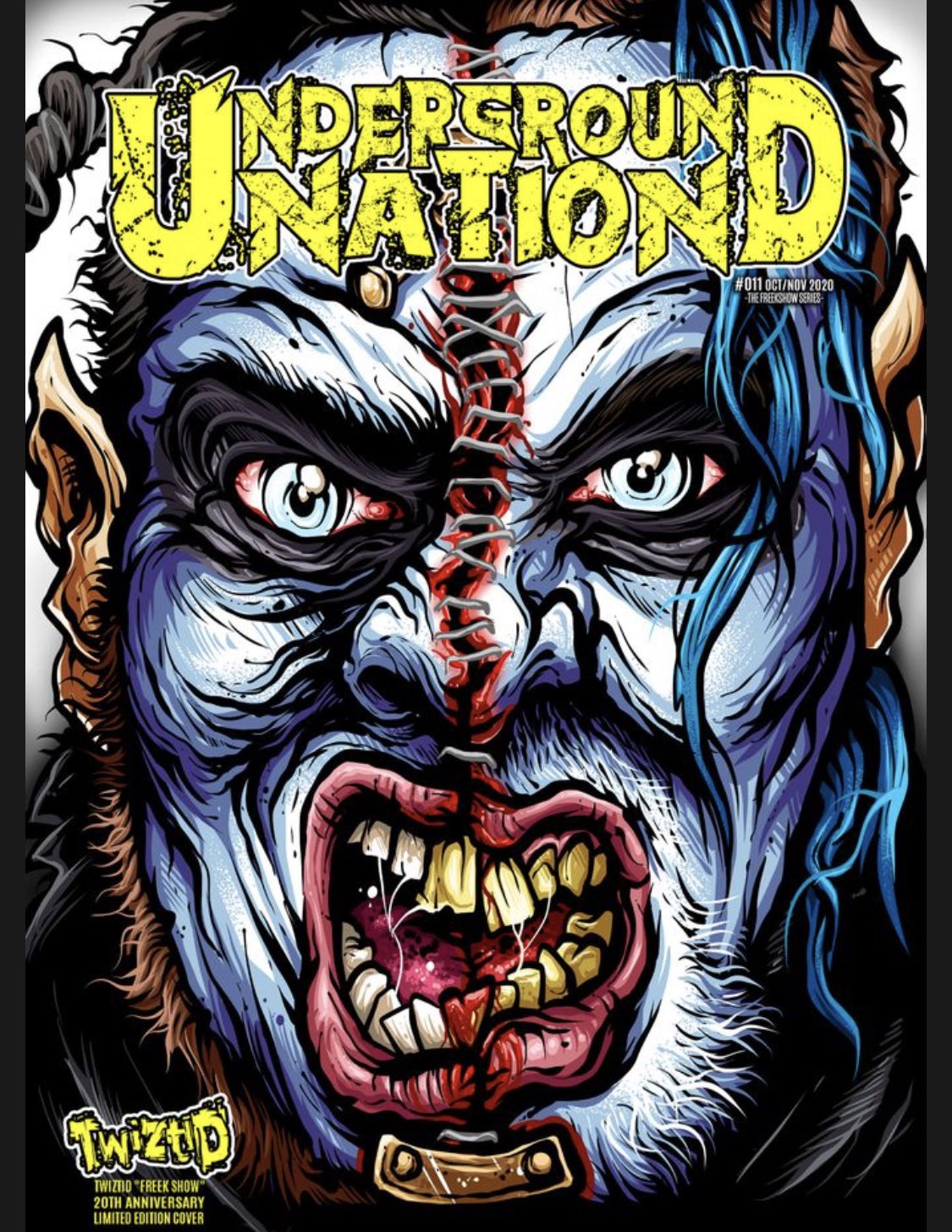 Underground Nation Magazine: Now, your classic underground hit "Freek Show" turns 20 years old at the end of this month on Halloween, how does this make you feel?
Jamie: Really awesome, because in my mind, obviously "Mostasteless" the hoodies cover, the not so much the concept of the baby's cover but the hoodies cover that really came out with that big circle lime green sticker that said featuring ICP. In my mind, that was the first real opportunity at being real and giving a platform and then "Freek Show" was the second. Obviously I am not silly, I understand the reissue and all those but "Freek Show", considering all of the ideas of "Mostasteless" all being one record and "Freek Show" was the next step. "Freek Show" was the first chance for Jamie and Paul to step away from everybody and be like, "We think we have learned enough, let us show you guys what we can do!" and then we step behind the production board, we sat down with Fritz the Cat, we sat down with Gary Arnett and E Wolf talked about the cover and the production of the record and we really, really piloted that whole ship and I think it makes me feel great because it was the introduction to what I stand here today in my own office doing which is handling my motherfucking business. That's real shit!! It's what I like to call on the job training, sir. You know what I mean? Its just like what we said about Oh! The Horror wanting it, you could tell we wanted it. We still do, like we haven't lost a beat, dude! like it's the same, it's the same energy, it's the same magic, it's the same want. We wake up every day to do this shit like when we reach out to people and people reach back to us and looks on their face and the happiness and the whatever we can provide to get people through their day, I think it is a cool feeling, I think that is something that I never want to stop. Ya know?!
UGN:Is there a deeper hidden metaphor behind the album art of "Freek Show" in regards to the sewn faces and the angel with wings and halo?
Jamie: Oh, the artwork. The idea in the concept was the perfect balance. that's what is written under the poster. It is the perfect balance of good and evil, like the idea of without light there can be no dark, without dark there could be no light like everybody likes to say (Obviously one is good and one is bad). But the actual idea that you need both of them to achieve the other and I think that is what we were trying to show everybody and the concept of the record going through, a person who's on the edge and they're basically like we're the freak shows in the carnival wagons that were taking city to city with broken wings and going through this whole thing and coming to grips with the record, if you listen to the progression of the record, we get over those things and we find out that our imperfections are okay.
Jamie: Its okay to be not perfect and I think that's the takeaway by the end of the record with "I'm Alright", you are all right, because all of the things and all of the hang-ups that you had throughout you're "Different" and "People Are Strange" and all of these different avenues that we walk you down into all the angels with broken wings, those are the people listening. You're all angels with broken wings and you just don't know where to go, or what to do but it is okay to be flawed, it's okay to learn to try to learn to be better. That's alright and I think that if there is a hidden meaning, I believe that is what it is.
UGN: Are there any lesser known studio session stories you like to share behind creating "Freek Show"?

Jamie: There's one cool one, that was when Paul and I were working on "Fall Apart" in studio A of the Disc LTD with Fritz and we were sitting there and Violent J came up to listen. And he was like just not necessarily to check up on us but he just happened to be, I don't know what the hell he was doing in east point at the time, seeing how they were from way in NOVI, but he happened to be there and he stopped into the session and we are like, "Oh shit, what's going on?!" and he's like, "Why don't you play some of the shit that you're doing." And we played "Fall Apart" for him and we were building, I want to say at the time, I could be correct, could be wrong but I want to say at the time we were building the bridge, *starts singing* "you fall apart something someone" with that distortion and that kick *makes distortion sound effect* and boom! He was just so blown away by it, he was compelled to go and get on the phone and call Mike Clark, who was about 15 minutes away in Sterling Heights and rush him to the studio to come and listen to this song and just listen to the freshness, that Twiztid's putting into existence and that was like, I don't know, that made me stop in my tracks because the guy that was helping me craft my album the first time around is now freaking the fuck out because Paul and I are just so awesome with, like it made me feel good, it made me not feel like a Padawan, it made me feel like a real Jedi, that makes sense?
UGN: Yes and wow! For real?!
Jamie: Its fucking real, its real as fuck and Mike E. Clark came there and just like looking at his face and just having him be like, "Man you guys are really killing it!" and then they left and its like we looked at Fritz and Fritz looked at us and we were like, "Did that just happen?!" It was like, "holy fuck man!" I guess if there were any wavering, which there wasn't, but if there were any wavering of confidence, man that just put it right back on par.
And speaking of "Fall Apart". When fans tell you in person that, that track specifically has saved their very own lives, how do you approach this response in-person?
Jamie: I think to anyone who says that about any of our music, I say that I'm honored that I could be something for you. Whether it be that to be something for you on the day that you fell down or something, if our music can be that, anything for you, I am honored, and I am beyond honored. I am always honored. I am blown away, like it's like having someone have you tattooed or your lyrics or your words on their body, it's amazing, it's humbling, it's a beautiful thing and it's like, I don't ever want to take that for granted, I am always proud of that and I think that people know that. I know, nowadays, you are supposed to be a cool Johnny badass and you're not supposed to care what people think but I truly do care about what our listeners think, really I always have.
To Read The Full Jamie Madrox Sneak Peek Interview Click Here: https://underground-nation.com/2020/10/30/celebrating-20-years-of-pure-horror-brilliance-with-freek-show-sneak-peek-interview-with-jamie-madrox-of-twiztid/
To Support The UGN Twiztid Hard Cover Click Here: https://underground-nation.com/shop/
from Faygoluvers https://ift.tt/3mEoKwp